Final Furlong Hall of Fame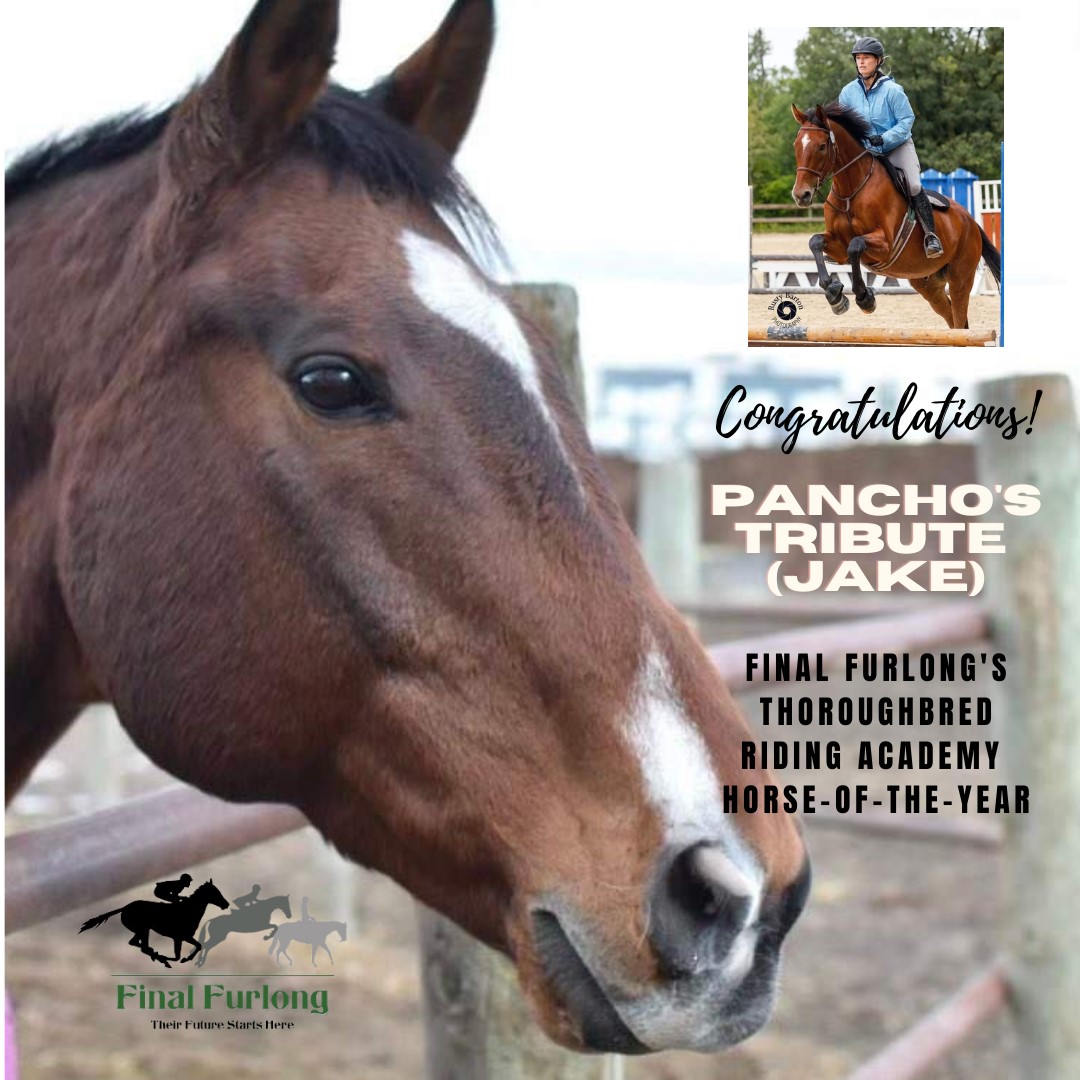 Pancho's Tribute
Riding Academy Horse of the Year
Pancho's Tribute (Jake) is a 22-year-old thoroughbred that last raced in 2006. He retired at the age of 4. Originally purchased off the track by Jan Micay. Several years later when Jan could no longer ride she knew Jake wasn't done and had much more to offer. That is when Ashley Buss of Grand Oak Meadows Stables says she was lucky enough to purchase Jake. Jake has been and intregal part of Grand Oak Meadows ever since 2018.
Jake is a favourite instructor of Grand Oak Meadows students. It might be his gentle hugs he gives when you try to bridle him. Ashley says it's serves as a ploy to prolong going to the arena to work. He is a gentle giant at 16.3 hands that will allow you to put a 4-year-old on him or you could send him to a show ring with jumps up to 2'6″.
Said of one of his students. "In 2020 I realized a lifelong dream of learning to ride. I met a then 20-year-old Jake and I have learned to walk, trot, and canter. Now I'm even learning to jump at the age of 58. I have enjoyed over 150 rides on him since the first one. He is always kind, willing, dependable and most of all patient. I wish he were mine, but then so many others would not get to experience his awesomeness."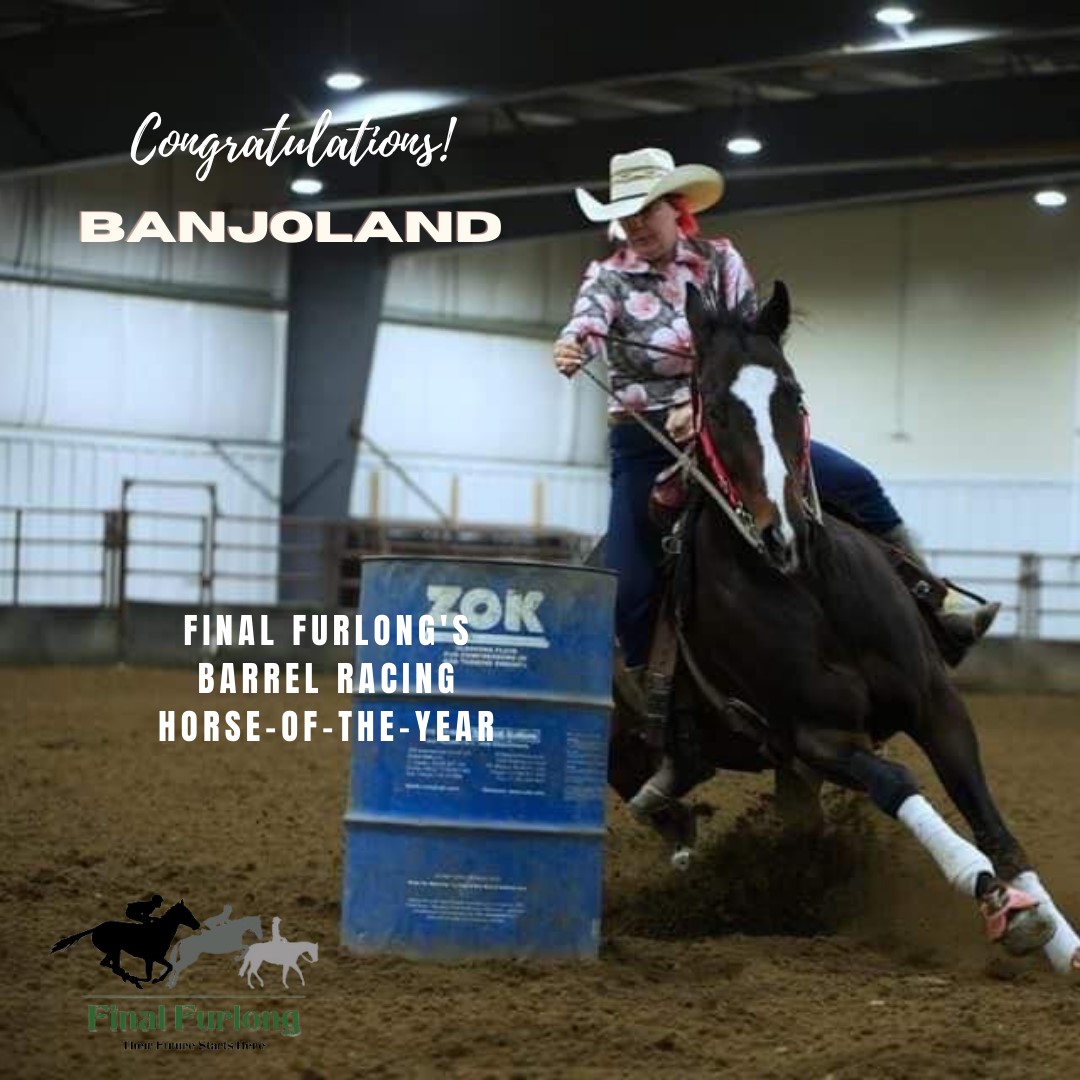 Banjoland
Barrel Racing Horse of the Year
Congratulations Banjoland! Banjoland is a 12-year-old thoroughbred that last raced in 2015. He tried the chuckwagons but it wasn't meant to be. He was then given to his current owner Delanie Ethier.
At first he was just an all around/kids horse. He pulled a sleigh, chased cows, went over small jumps, trail rides. It was 2017 when Barrel Racing sparked their interest and the training for both horse and owner started, learning together. Fast forward to 2021 they have accomplished a lot for both not knowing anything about barrels; second in the 2D at district finals, seventh in the 2D at the Red, White, & Gold Slot Race, hitting the top of 2D consistently throughout the years and now competing in 1D.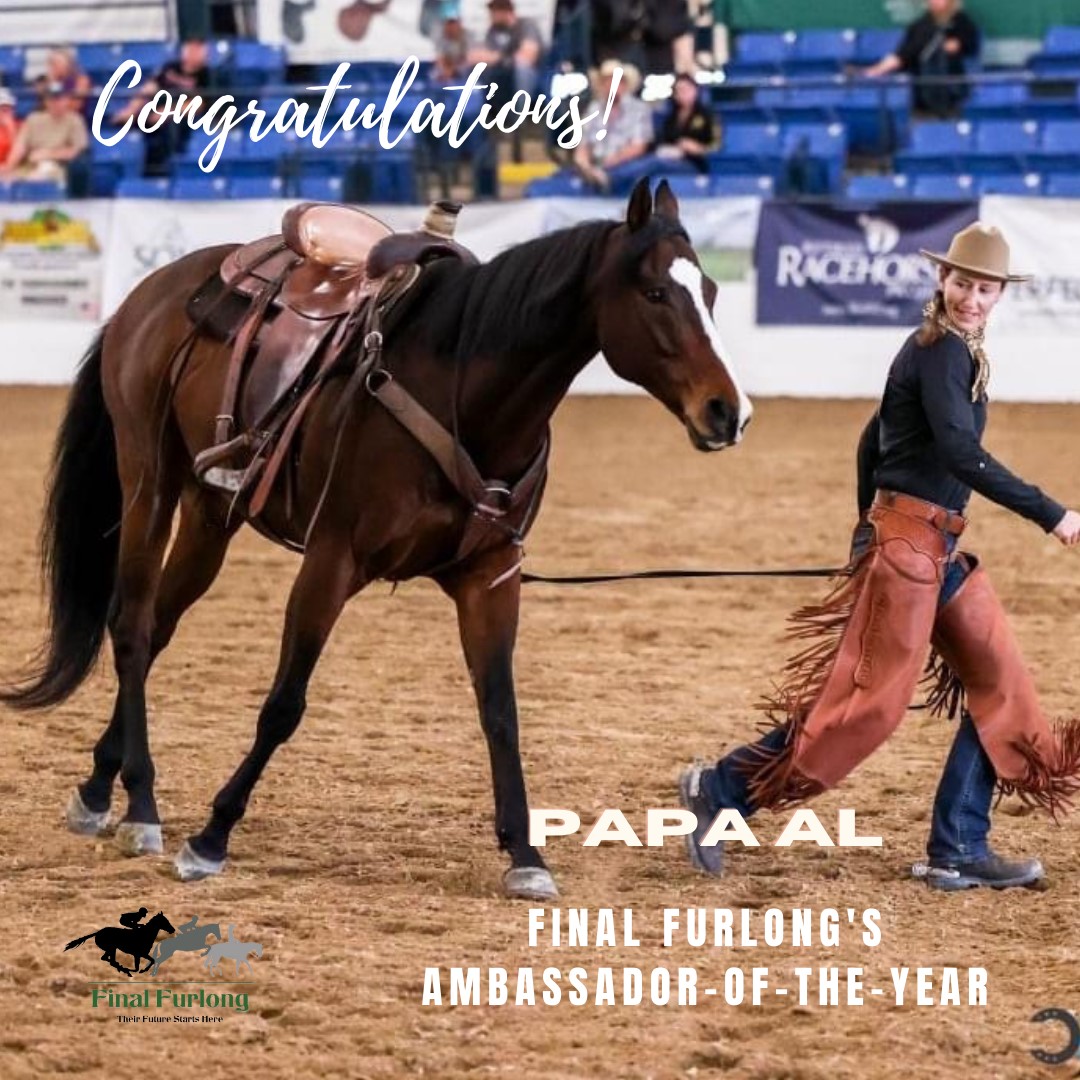 Papa Al
Ambassador Horse of the Year
All organizations beam with pride when one of their own accomplishes great things and Final Furlong is immensely proud of Papa Al. Previously listed through Final Furlong in 2020, Papa Al went from racing career to Freestyle Champion of the Thoroughbred Makeover Challenge in only a year. The pinnacle of horse shows that features the versatility of our beloved thoroughbreds just off the track. Congratulations owner Kierra Funk and trainer Jody Lyn Busch on your spectacular accomplishment and thank you for taking Final Furlong along for the ride! You are a true Ambassador!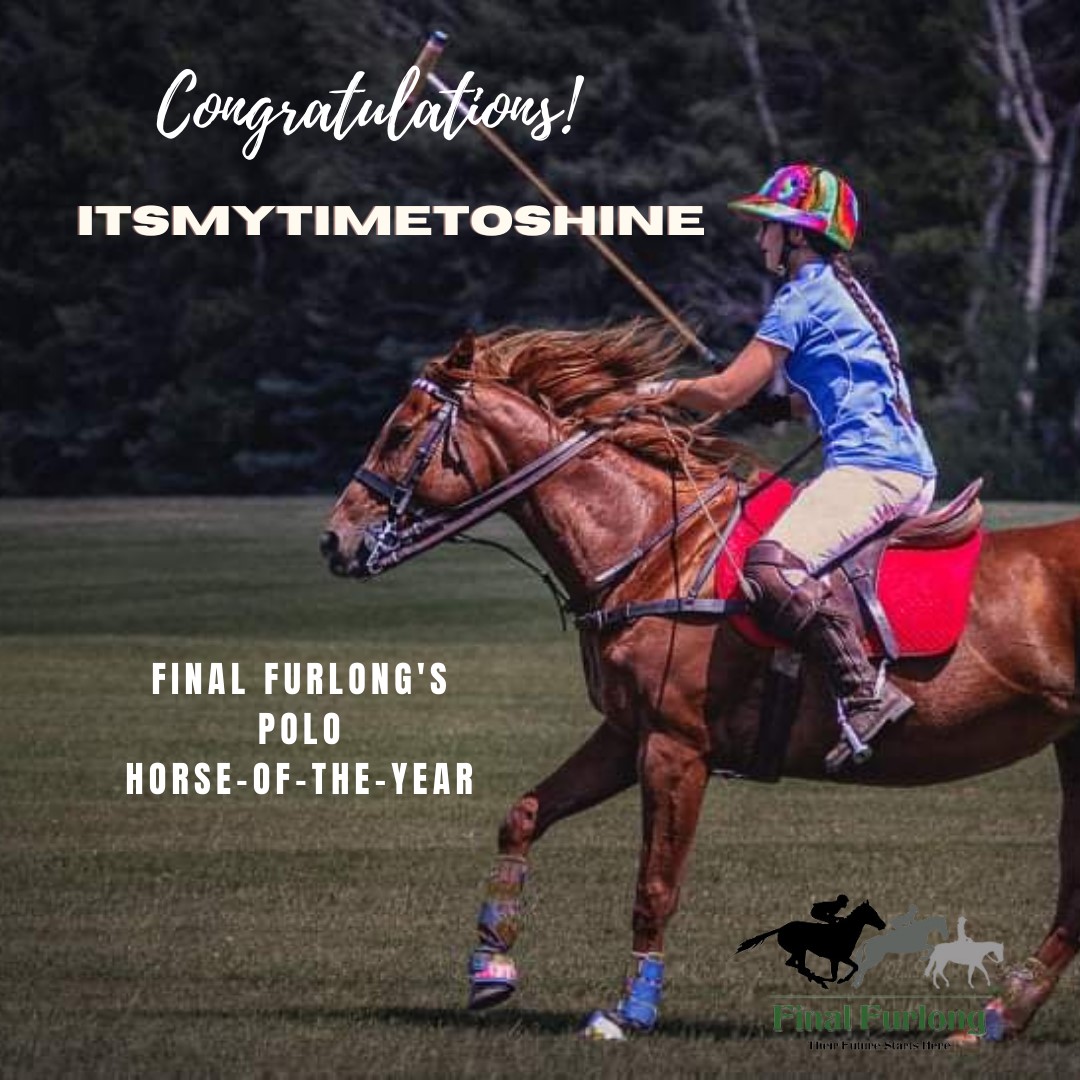 Itsminetimetoshine
Polo Horse of the Year
Itsmytimetooshine came off the track in 2017 and went through a few homes before she started being trained for polo. With the lack of a competitive season due to Covid, Shiney has showed promise in chukkas early. Thanks to her naturally gentle and calm demeanor, she's taken quickly to the game and never lets commotion on the field distract her from the task at hand. This coming summer will be her second season of polo training and they are expecting good things from her. Congratulations for a awesome start and we look forward to watching her progress in polo.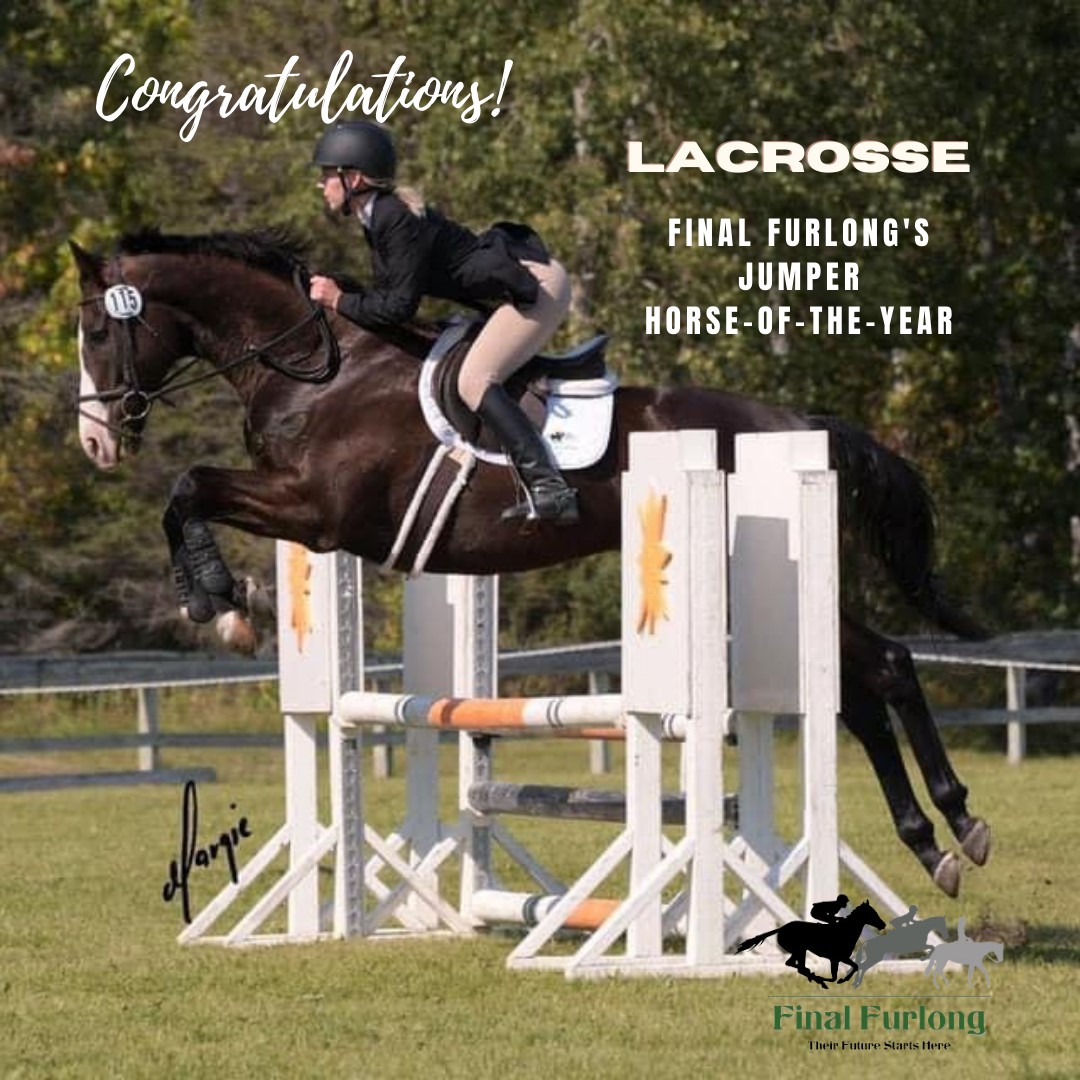 Lacrosse
Jumper Horse of the Year
Congratulations to Lacrosse and his owner/rider Haley Turnbull. Lacrosse is an 11-year-old thoroughbred who last raced in 2015. Once he got used to the idea that life wasn't a box stall and going around in circle on the track he found his love for jumping. He's jumped up to 1.20m at home and has recently started showing off his skills in the show ring up to 1m courses. In his first year showing he competed in a few schooling shows and did very well during last years abridged season due to Covid. Lacrosse earned a couple top 8 out of classes of 15 plus horses, capping off the year being named the Jockey Club High Point Thoroughbred at the Deck the Halls show in Brandon this past November. This guy loves showing off and getting all dressed up! We look forward seeing this flashy young man this season.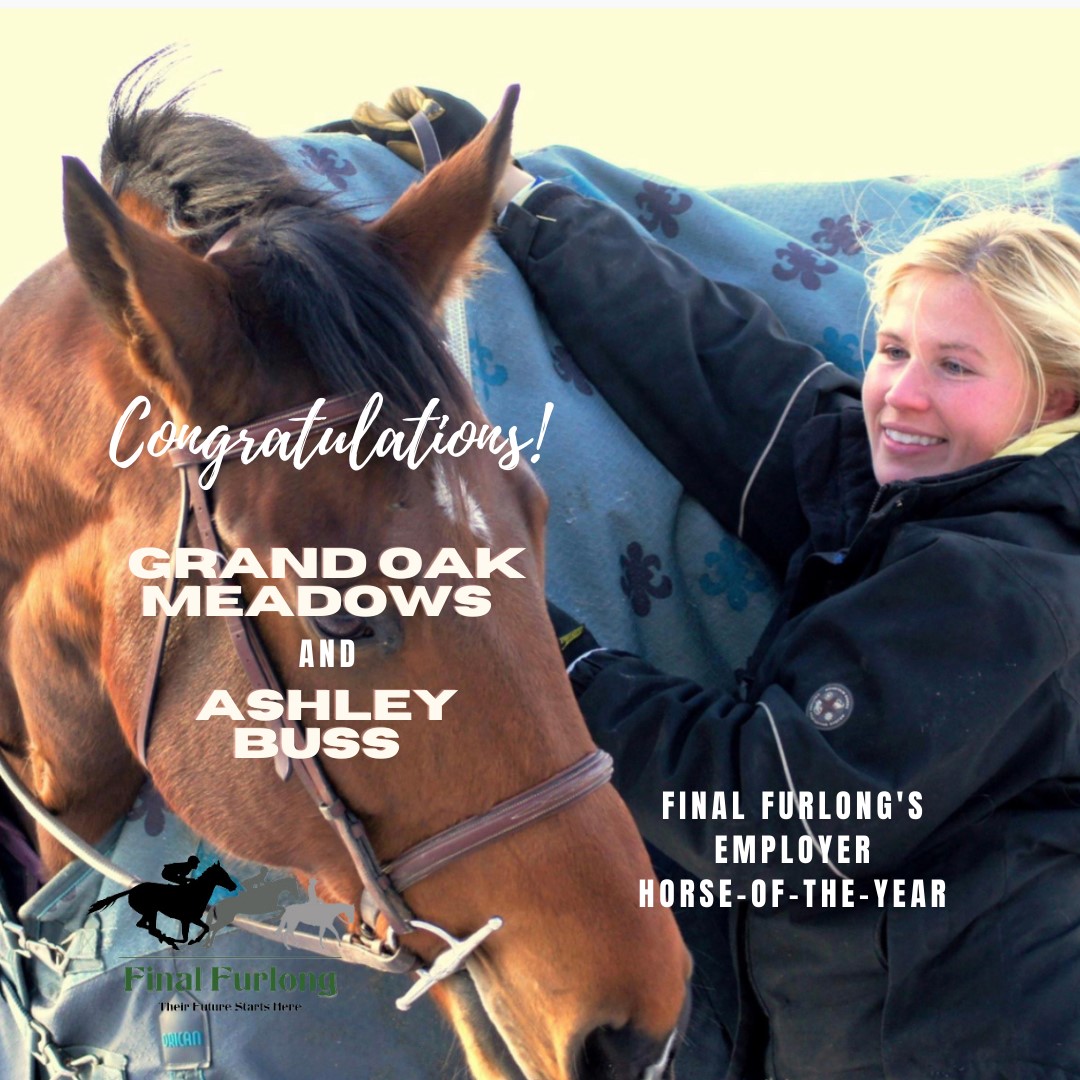 Ashley Buss (Grand Oak Meadows)
Employer of the Year
As an organization Final Furlong is thrilled to work with people that champion the Thoroughbred as a breed. Ashley Buss of Grand Oak Meadows is one of those people. Under Grand Oak Meadows employment are 5 Thoroughbreds, including this year's Final Furlong Riding Academy Horse of the Year Jake.
Ashley's love of riding in the show ring lured her to Assiniboia Downs to be a exercise rider. When she started her riding academy she was able find the perfect group of thoroughbreds help her out. Congratulations Ashley, Grand Oak Meadows, and their staff: Jake, Smoothie, Chi Chi, Beau and Joey!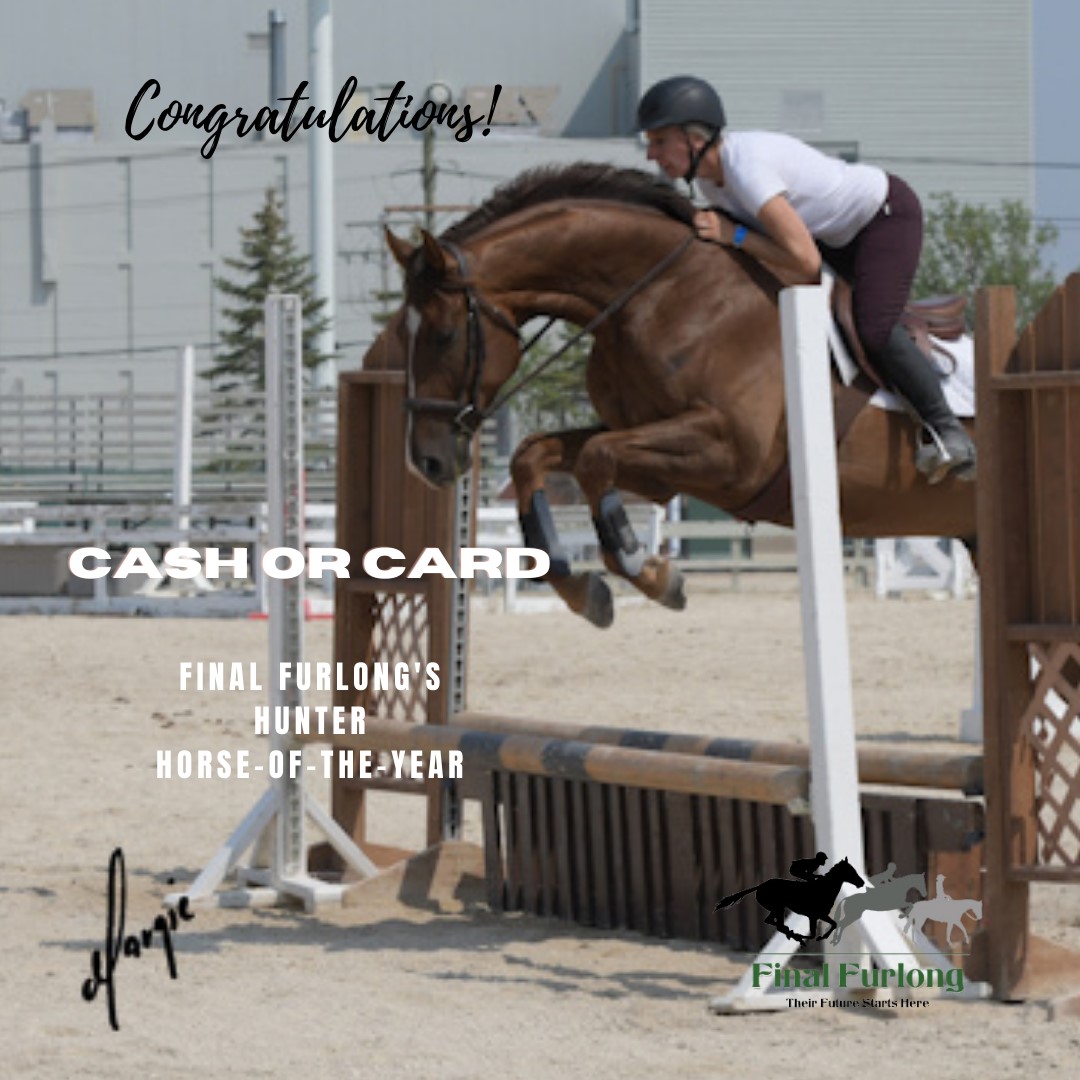 Card or Cash
Hunter Horse of the Year
Cash or Card is a 4-year-old thoroughbred that last raced in 2020. As a 2-year-old Cash or Card amassed winnings of $47,419.00 including multiple stake wins. Cash retired from racing as a 3-year-old. Since starting his new show jumping career in 2021 Cash has had a very successful first year of showing. Winning multiple classes this summer in 2'3 and 2'6 divisions in the hunter ring. Looks like we have a classic over-achiever on our hands. Congratulations Cash or Card and owner/rider Shelley Hallick! We look forward to another stellar year!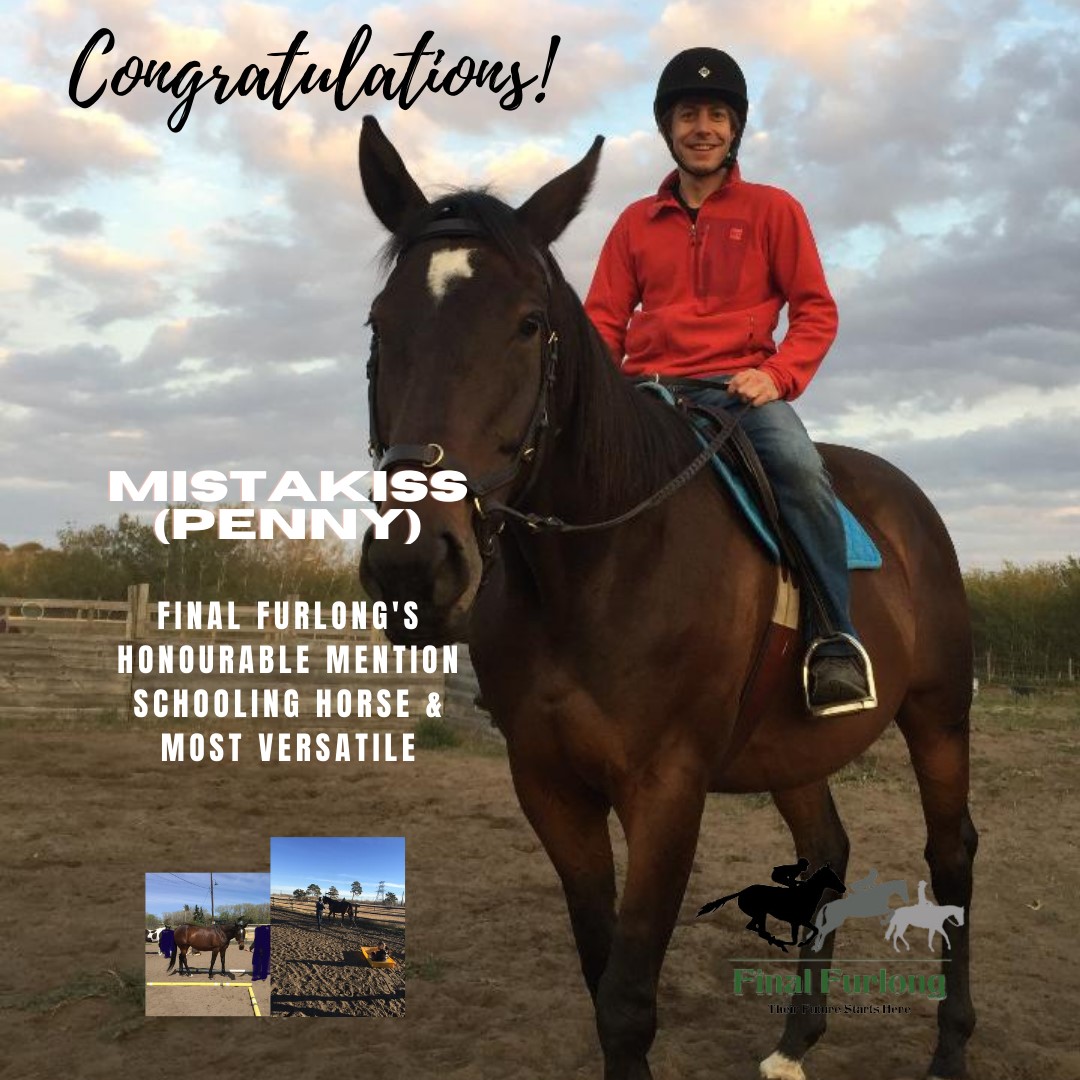 Mistakiss
Honorable Mention School Horse & Most Versatile
Mistakiss' (Penny) is an 8-year-old thoroughbred who last raced in 2017. As a schooling horse you couldn't ask for a more reliable, polite and cooperative teacher. She was originally purchased with the intent of competing in the Retired Racehorse Challenge however due to some soundness issues her gentle nature propelled her to being a lead-line horse (for those not afraid of heights).
As she proved herself more and more, she was introduced to teaching beginners. She excelled at this as much as the work on the ground. She is now a lesson horse and is ridden by older kids and adults who aren't intimidated by her large size.
Penny is a dream to handle and the perfect schooling horse. She will stand with her eyes half closed while she is petted or brushed. She is a super sweet, super easy mare that loves people and can do anything from trail riding , lead line and even pull a cart. She is a real example of how super thoroughbreds can be in any program. Congratulations Penny!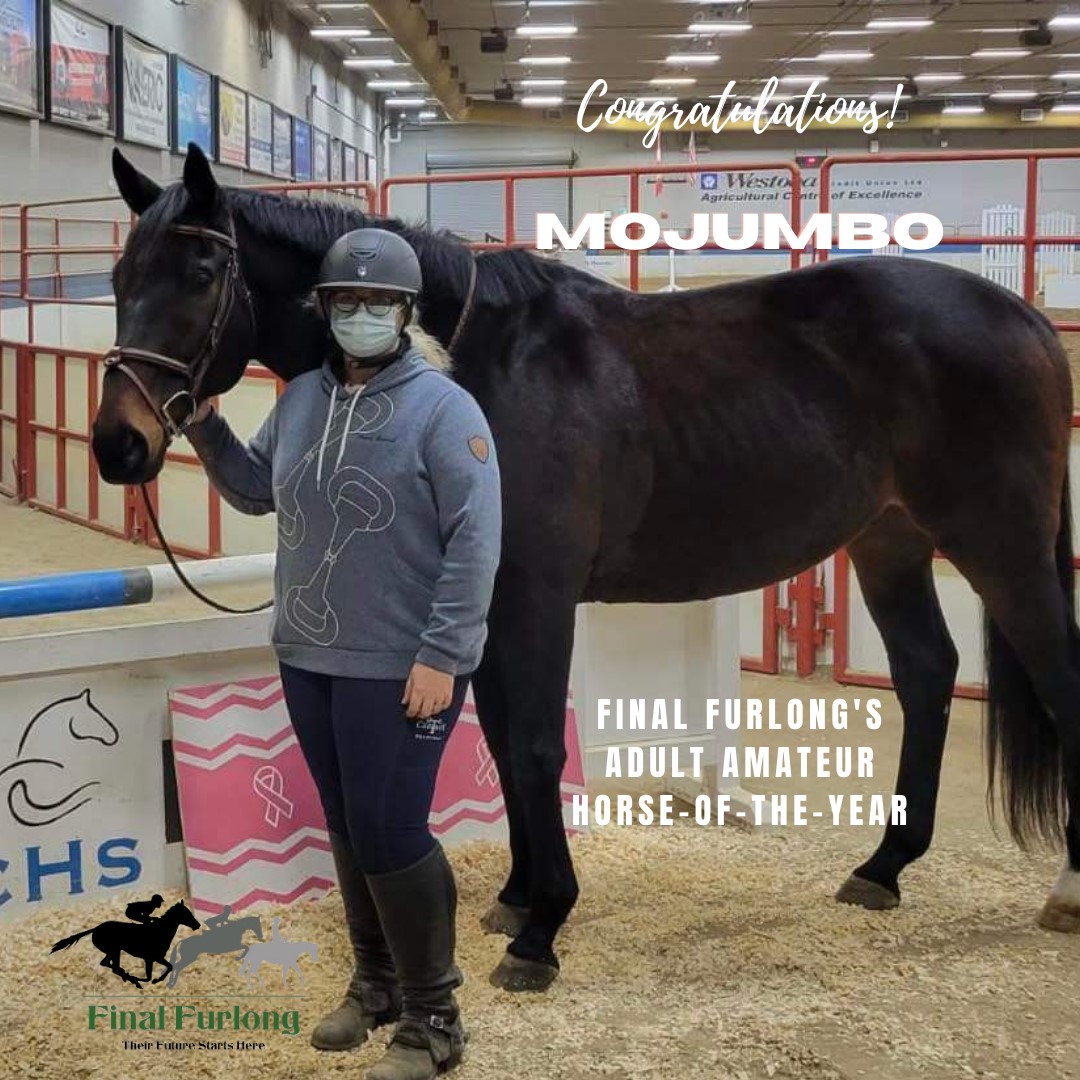 Mojumbo
Adult Amateur of the Year
Notable (aka Preston) raced as Mojumbo. He is a 13 year old gelding who last raced in 2018 and made almost $100k in his racing career.
Preston is one in a million. He is perfect for me as I get back into showing as an amateur. I originally bought Preston as a friend for my 25 year old OTTB and thought he'd just be a trail horse. Although he loves trail riding, he loves jumping even more and it has been fun getting back into it! The highlight of this season was winning High Point Thoroughbred Hunter in the Jump for the Cure Horse this fall. We've set our sights on showing the 3'0" Adult Hunters next year in Alberta.
Congratulations Mojumbo and Bonnie Cote!